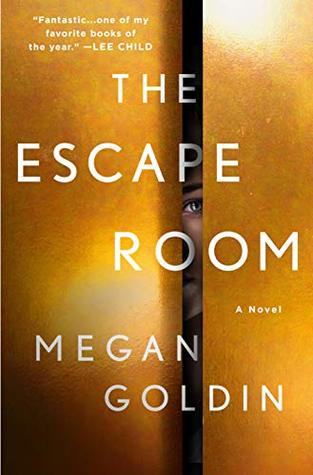 PUBLISHER: St. Martin's Press
PUBLICATION DATE: July 30th, 2019
……
Thank you to the publisher for the eARC of this book via NetGalley and also for a physical ARC copy.
……
ABOUT THE BOOK:
Welcome to the escape room. Your goal is simple. Get out alive.
In the lucrative world of finance, Vincent, Jules, Sylvie, and Sam are at the top of their game. They've mastered the art of the deal and celebrate their success in style—but a life of extreme luxury always comes at a cost.
Invited to participate in an escape room as a team-building exercise, the ferociously competitive co-workers crowd into the elevator of a high rise building, eager to prove themselves. But when the lights go off and the doors stay shut, it quickly becomes clear that this is no ordinary competition: they're caught in a dangerous game of survival.
Trapped in the dark, the colleagues must put aside their bitter rivalries and work together to solve cryptic clues to break free. But as the game begins to reveal the team's darkest secrets, they realize there's a price to be paid for the terrible deeds they committed in their ruthless climb up the corporate ladder. As tempers fray, and the clues turn deadly, they must solve one final chilling puzzle: which one of them will kill in order to survive?
……
MY REVIEW:
Absolutely amazing! This book had me hooked from the beginning!
Imagine being invited to take part in a team building exercise with your co-workers, who are just as hard working and cut throat as you are? Who will all do whatever it takes to get to the top of the corporate ladder? All 4 co-workers are trapped in an elevator, in what starts off as a seemingly innocent fun game of the classic 'escape room' that quickly turns into a much darker, sinister game that is not quite as fun as they expected. The elevator doors lock, the lights go out, and cryptic clues are revealed, that turn more sinister than the previous clue. It quickly becomes clear to the 4 colleagues that something much darker than they anticipated is happening.
As members begin the panic, and confusion creeps in about what exactly is going on, paranoia kicks in and things turn deadly serious. Will the colleagues be able to work together to escape and get out alive, or will they slowly but surely begin turning on one another, to ensure they escape with their lives?
What would you do if you were faced with this deadly game? Would you do whatever it takes to get out? Would you do whatever it takes to survive?
A fantastic book that you must read! You will not be disappointed!
……
MY REVIEW: 5/5 stars