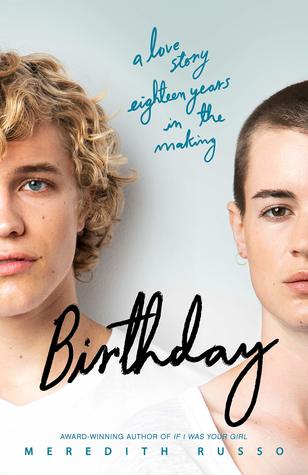 PUBLISHER: Flatiron Books
PUBLICATION DATE: May 21st, 2019
……
Hi everyone and welcome to my stop on the Birthday Blog Tour, written by Meredith Russo. Thank you to Raincoast Books for inviting me to be a part of such an exciting tour and for gifting me an ARC of this book to read and share my review with everyone.
……
ABOUT THE BOOK:

Two kids, Morgan and Eric, are bonded for life after being born on the same day at the same time. We meet them once a year on their shared birthday as they grow and change: as Eric figures out who he is and how he fits into the world, and as Morgan makes the difficult choice to live as her true self. Over the years, they will drift apart, come together, fight, make up, and break up—and ultimately, realize how inextricably they are a part of each other.
……
MY REVIEW:
I absolutely loved this book and the story that evolved. I enjoyed reading about the two main characters, Morgan and Eric. Born on the same day at the same hospital, and their lives crossed paths that one fateful day due to a snow storm that left their families trapped in the hospital until the storm passed. They were destined to meet and become the best of friends.
Both characters were very interesting and likable, and I found it quite interesting to read about their character development throughout the book as they grew from young pre-teens into adulthood. It was interesting to read things through their own eyes and experiences and get a glimpse into their deepest thoughts and feelings. Each chapter alternates from Eric's and Morgan's point of view and I loved this style of writing. We got to see things through the eyes of both main characters and it was fabulous.
I also enjoyed how the novel was written in sections according to their birthday each year – 16th birthday, 17th birthday, etc. It allowed the reader to see their personal growth as the story progressed and how they grew as young adults year after year. I thought it was special how they always seemed to celebrate their birthdays together each year.
Birthday is a heartwarming story that will leave you feeling happy and will tug on your heartstrings. I loved this story and felt so immersed in it, that I was unable to put it down until I came to the very end.
Thanks for stopping by on my stop of the blog tour. I hope you enjoy the book. On sale now!
……
MY RATING: 4/5 stars
……
FOLLOW US ON THE BLOG TOUR: