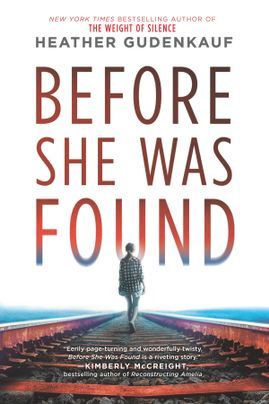 PUBLISHER: Park Row
PUBLICATION DATE: April 16th, 2019
……
Thank you to the Publisher for gifting me a beautiful paperback copy of Before She Was Found by Heather Gudenkauf to read and review.
……
ABOUT THE BOOK:
For twelve-year-old Cora Landry and her friends Violet and Jordyn, it was supposed to be an ordinary sleepover–movies and Ouija and talking about boys. But when they decide to sneak out to go to the abandoned rail yard on the outskirts of town, little do they know that their innocent games will have dangerous consequences.
Later that night, Cora Landry is discovered on the tracks, bloody and clinging to life, her friends nowhere to be found. Soon their small rural town is thrust into a maelstrom. Who would want to hurt a young girl like Cora–and why? In an investigation that leaves no stone unturned, everyone is a suspect and no one can be trusted–not even those closest to Cora.
Before She Was Found is a timely and gripping thriller about friendship and betrayal, about the power of social pressure and the price of needing to fit in. It is about the great lengths a parent will go to protect their child and keep them safe–even if that means burying the truth, no matter the cost.
……
MY REVIEW:
Gripping, thrilling, shocking, and one heck of a ride! Before She Was Found was all of this and more. This was the first novel I have read by Gudenkauf and it definitely will not be the last. Heather has such a way of writing that grabs your attention and demands it the whole way through. I flew through this book in just one day, I was so deeply immersed in the book and wanted to know what would happen next I was unable to put it down.
Three 12 year old girls – Cora, Violet and Jordyn – are having your typical teenage girl sleepover. They talk about boys, life, watch movies, etc. But what starts out as a typical sleepover turns into not – so – typical, as they decide to head to the old railroad tracks in town.
I really enjoyed reading the diary entries of Cora. It gave us a glimpse into her life and the way she feels and the way she views things in a way that the story is unable to. I enjoyed reading about her life through her eyes and experiences as she lived them, and we got to know her deepest and darkest feelings. We were able to get hints of her declining mental health as well which I feel were extremely important to the novel.
I enjoyed the urban myth vibe to the storyline as well. The three girls were trying to see if the urban myth was true, and I found it intriguing as the story unfolded.
The ending was a huge surprise to me. I didn't see that coming at all! Without saying too much and giving anything important to the story away, I really enjoyed this book. Great job Heather and I look forward to reading more of your novels.
……
MY RATING: 4/5 stars