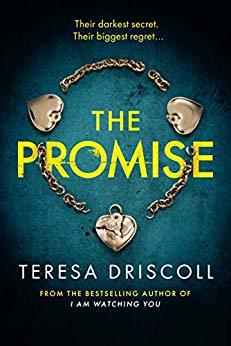 PUBLISHER: Thomas & Mercer
PUBLICATION DATE: February 7th, 2019
……
Thank you to Thomas & Mercer for gifting me an eARC copy of this book via NetGalley.
……
ABOUT THE BOOK:
It was their darkest secret. Three schoolgirls made a promise – to take the horrible truth of what they did to the grave.
Thirty years later, Beth and Sally have tried to put the trauma behind them. Though Carol has distanced herself from her former friends, the three are adamant that the truth must never come to light, even if the memory still haunts them.
But when some shocking news threatens to unearth their dark secret, Beth enlists the help of private investigator Matthew Hill to help her and Sally reconnect with estranged Carol ­– before the terrible act they committed as teenagers is revealed.
Beth wishes she could take back the vow they made.
But somebody is watching and will stop at nothing to ensure the secret stays buried. Now, with her beloved family in peril, can Beth still keep the promise?
…..
MY REVIEW:
The Promise is full of surprises and shocking revelations. Imagine making a pact with two of your closest friends, promising to keep it a secret. Something so dark and horrible, you vow to never tell a soul. Will you be able to trust one another not to spill the beans and reveal your darkest secret?
I found this book to be  a slow burn for me. The premise and plot of the book was interesting, but I found many parts to be quite slow paced and it took me some time to get into the book. I found the beginning of the book especially to be slow to lead up to the full plot, which is fine, but I found myself wishing the pace would pick up sooner than it actually did. I found myself struggling to get through the first part of the book because it was so slow paced for me, which is fine, but I personally prefer faster paced novels.
I found the dynamics of the three friends – Beth, Sally and Carol – to be interesting. When you are young and so close to one another and vow to keep something secret, will you be able to keep that promise some 30 years later? After all, they are no longer young girls but are now women. People change, don't they? People grow up, personalities and responsibilities change, and so do priorities and values.
Thank you for reading my review. I hope you enjoy this novel, on sale now.
……
MY RATING: 3/5 stars