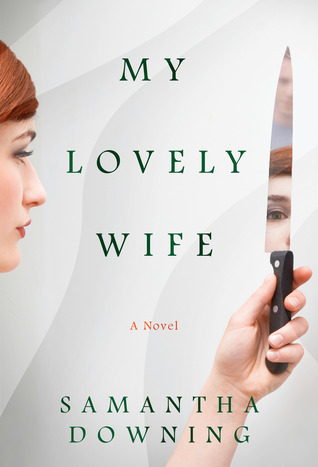 PUBLISHER: Berkley Publishing
PUBLICATION DATE: March 26th, 2019
……
Hi there and welcome to my stop on the Blog Tour for My Lovely Wife by Samantha Downing. Thank you to Berkley Publishing for gifting me a beautiful hardcover copy of this book and for inviting me to be a part of this exciting blog tour!
……
ABOUT THE BOOK: 
Dexter meets Mr. and Mrs. Smith in this wildly compulsive debut thriller about a couple whose fifteen-year marriage has finally gotten too interesting…
Our love story is simple. I met a gorgeous woman. We fell in love. We had kids. We moved to the suburbs. We told each other our biggest dreams, and our darkest secrets. And then we got bored.
We look like a normal couple. We're your neighbors, the parents of your kid's friend, the acquaintances you keep meaning to get dinner with.
We all have secrets to keeping a marriage alive.
Ours just happens to be getting away with murder. 
……
MY REVIEW:
Addictive, thrilling, exciting, and edgy! Wow, this book was amazing! I loved it. My Lovely Wife is a thrilling and addictive thriller that will have you not wanting to stop reading! Page after page, this book will have you hooked from the first chapter!
Imagine being married and being a seemingly "normal" couple. Married with children, well known in their neighbourhood with many friends and acquaintances. They have dinner parties, attend popular work and neighbourhood functions, and are well liked. But they share a sinister secret. They enjoy hunting down the perfect person to murder, and what's even more…they are addicted to the thrill of not being caught and getting away with it. The selection process is a lengthy and a selective one. The perfect person they will murder next has to pass a series of checks and and tests. They will not just kill anyone, but they will watch the person for some time to see if they are the perfect person for the next kill.
I enjoyed this book so much! I was immersed in the dark edginess of this book, and I loved the Dexter meets Mr. and Mrs. Smith vibe in this book. It was so difficult for me to put this book down, I just wanted to sit and read this in one sitting! I enjoyed reading the interesting and sinister dynamics of their marriage and the lengths they both went to in order to keep their marriage alive.
I loved reading the husband's selection process in choosing their next victim. It was comical yet dark and edgy, and I loved it! A true masterpiece of a novel that I really did enjoy straight through to the end. And that ending.. WOW!! I definitely didn't see that coming, and what an ending it was!
You definitely need to check this book out!! Samantha Downing killed it (see what I did there… haha) with her debut novel. Way to go Samantha! I will definitely be on the lookout for your future books!
…….
MY RATING: 5/5 stars