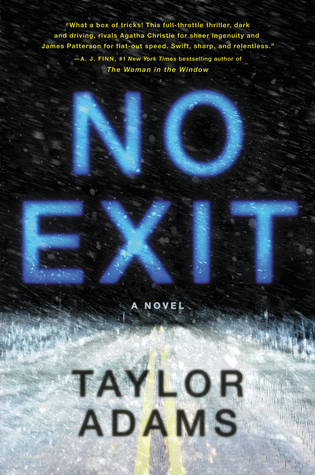 PUBLISHER: William Morrow
PUBLICATION DATE: January 15th, 2019
…..
Thank you to Harper Collins Canada for gifting me a paperback copy of No Exit to read and share my review.
……
ABOUT THE BOOK: 
A kidnapped little girl locked in a stranger's van. No help for miles. What would you do?
On her way to Utah to see her dying mother, college student Darby Thorne gets caught in a fierce blizzard in the mountains of Colorado. With the roads impassable, she's forced to wait out the storm at a remote highway rest stop. Inside, are some vending machines, a coffee maker, and four complete strangers.
Desperate to find a signal to call home, Darby goes back out into the storm . . . and makes a horrifying discovery. In the back of the van parked next to her car, a little girl is locked in an animal crate.
Who is the child? Why has she been taken? And how can Darby save her?
There is no cell phone reception, no telephone, and no way out. One of her fellow travelers is a kidnapper. But which one?
Trapped in an increasingly dangerous situation, with a child's life and her own on the line, Darby must find a way to break the girl out of the van and escape.
But who can she trust?
With exquisitely controlled pacing, Taylor Adams diabolically ratchets up the tension with every page. Full of terrifying twists and hairpin turns, No Exit will have you on the edge of your seat and leave you breathless.
……
MY REVIEW:
No Exit had me hooked from the very beginning. A child kidnapped and found on the back of a van in the middle of a snow storm. Several random strangers stuck in a building together due to the raging blizzard outside. So many things could go wrong. Especially if one (or more) of those strangers inside the building are up to no good. This book was divided into different sections – Dusk, Night, Midnight, and Witching Hours.
A random set of seemingly strangers, all with different personalities, secrets, and hidden truths and agendas. What could possibly go wrong? Everyone appears to be hiding something and holding something back, and you suspect that everyone is involved.
Without giving too much away about the book, you need to check this one out. it is definitely worth the read.
An addictive, edge of your seat thriller right through to the very end, you'll love this book! Be sure to get your copy today!
……
MY RATING: 5/5 stars