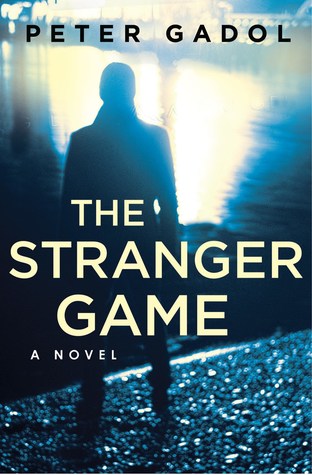 Publisher: Hanover Square Press
Publication Date: October 2nd, 2018
Thank you to Harper Collins Canada and Hanover Square Press for sending me a free advance reader paperback copy of this book to read.
ABOUT THE BOOK:
This book follows the story line of the main character, Rebecca, and her search for her on-again, off-again boyfriend Ezra. Ezra appears to have gone missing, as Rebecca realises she hasn't seen him or spoken to him in quite some time. They have never gone this long without talking and she begins to become concerned. Rebecca brings her worries to the attention of the police, who do not seem concerned at all. The police suggest to Rebecca that Ezra is maybe playing the "stranger game".
What is the "stranger game"? Rebecca has never heard of this before. The "stranger game" is a game that has gone viral, and it has players of the game following others in real life. Someone you see in a store, someone you see driving down the road, someone out walking their dog, etc. You simply spot them at random and then begin following them.
There are many rules to the game, and they are usually followed, but sometimes the rules begin to change, as players become addicted to the game and it grows more intense. Sometimes people disappear…
Rebecca begins to play the game herself in the hopes she can find out what happened to Ezra and where he is. She slowly becomes addicted to the game and finds she cannot stop playing. Will playing the game help lead her to finding Ezra?
MY REVIEW: 
This book started off very interesting to me. A real-life game that people play called the "stranger game" where players follower random, unsuspecting people around, and they have no clue they are actually being followed. Super creepy right? I think so. I mean I certainly wouldn't want people following me around, watching my every move, especially when I have no idea I am being followed.
Can you imagine? Is this really a game people play? I haven't heard of it before, but it makes me wonder if this is really a thing… The synopsis of the book is what intrigued me to read this book, and the story was quite interesting.
I too was worried about Ezra and what might have happened to him, and I found myself hoping that as Rebecca played along with the game that she would be able to find Ezra and they could be reunited.
I enjoyed reading about the game and how it is played. It was interesting to read about Rebecca's experiences as she played the game, and her experiences of following different random people around.
A few points in the book had me thinking "what the heck is going on" especially near the end, as the book is coming to a close. However, all questions are answered as you continue reading on and all is revealed.
I enjoyed this book overall, although I did find certain parts of the book to be a bit of a slow burn for me.
⭐ ⭐ ⭐